***** 557 Annual Fund Raiser News Flash ****
Engine 557 Annual Fund Raiser Kicks Off with $25,000 in Challenge Funding
The Engine 557 Restoration Company's 2017 annual fund raising event is off to a fast start with commitments for $25,000 in matching contributions being made by two long-time supporters of 557. The first challenge is from Dick Morris. He will match up to $5,000 in contributions received through December 31, 2017. The second is from Jim Jansen, who upped the ante by committing to match up to $20,000 in contributions. The two challenges are running simultaneously. For the first $5,000 received, contributions will matched by both Dick and Jim, so a $200 contribution with $400 in matching funds will make a total of $600 available to return Engine 557 to operation.
A letter announcing the annual fund raiser provides additional details. Instructions for contributing on-line or by mail can be found here. Hand delivered contributions are welcomed at the 557 Engine House in Wasilla, but please make arrangements by calling the number listed on the 557 Web Page.
DREAM BIG, DREAM STEAM!
---
We owe Richard "Dick" Morris our 557 Secretary Treasurer BIG TIME thanks on several fronts! We started restoring 557 with the admonition that "There are no drawings available". In the Allen County Museum in Lima Ohio, in a room of uncataloged drawings, we discovered notes indicating that a 62 pound set of paper drawings was sent out with each of the 2120 s-160 locomotives. Since then, Dick has sniffed out over 1400 drawings from around the world, scanned them, and organized them in a 2 volume CD collection with notes. We offer this collection in support of other interested parties in exchange for a $1000.00 donation to help recover our cost.
In the process many ancillary documents have come to light which provide endless s-160 trivia.
Where did the s-160 designation come from?
ALCO s-160 specifications
While the ALCO specs are a narrative, the LIMA specs for the same locomotive are FORMalized.
LIMA s-160 specifications
Just what did the operators in Great Britain think of the Yankee "Austerity" locomotives?
THE INSTITUTION OF LOCOMOTIVE ENGINEER
SCOTTISH CENTRE, GLASGOW
"Salient Features of U.S.A. 2-8-0 Austerity Locomotive"
These three documents are the start of the s-160 Technical Reference section of the 557 Web pages. Thanks to 557 Board Member, John Combs, you are welcome to visit anytime at alaskarails.org.
At times progress seems to crawl while we deal with lots of small deficits. We found some of the 3/4" bolts protruding from the front of the smoke box flange had damaged threads. These needed to be removed. A check of the drawing showed these to be 3/4" bolts in 13/16" holes. After 75 years they were fused into the holes with scale and rust, heating the bolts red hot, quenching them, beating on them with an air hammer brought only disappointment. Using Kano Penefite oil and hammering from both sides eventually popped them loose. Persistence by Lynn Willis, Ken Elmore and Gene Augustine won out in the end.
The small parts sand blast cabinet is always busy as items are cleaned to white metal in the process of restoration. James Keene is preparing the bracket for the air strainer (cleaner) to be mounted on the Westinghouse cross compound air pump.
The Pyle National headlight case for the front headlight was sand blasted prior to receiving Cloverdale epoxy primer and Armour Shield black finish. The all white interior makes it easy to service and provides more even illumination for the side number board panels. All wiring is modern EMD high temp no smoke 12 gauge being done by Jerry Peters, the long retired ARR Master Mechanic.
Panoramas is the Alaska Railroad Corporations glossy onboard magazine distributed each summer. The publication is prepared each year by Thompson & Co. the ARRC Public Relations and advertising firm. For 2018 they plan to feature an article on the restoration of Engine 557. Stephanie Plieness, Account Manager and Ashleigh Ebert, Account Executive toured the 557 engine house to verify the wild stories they had heard about the comings and goings there. Yes that is Pat Durand in the middle of the rose garden. The 557 volunteers take heart in the enthusiasm shown by the ARR staff and employees in support of the restoration effort.
On the milling machine the eye end of a pilot brace support is being machined to obtain proper weld depth and penetration where it will be attached to the end of a 3" round rod that will form the left side pilot brace. Pilot brace? USATC s-160's were not manufactured with pilot braces and the front pilot beam just stuck out there like a protruding jaw daring to be struck. Not sure when, but on arrival here it was obvious the front coupler and pilot beam was a full 1 7/8" too high and at some point had been "adjusted". Probably at the same time the front engine truck was bent up and sent out of tram. We do know that at one time 557 got intimate with a loaded dump truck at a grade crossing. We also know that the frame spacer behind the pilot is not a Baldwin, Alco or Lima casting. It came from a foundry in Seattle Washington, further evidence of a major undocumented repair. All those records were lost in the Anchorage shop fire.
In any event, we found a crack in the left frame rail just in front of the cylinder block which will be the subject of a welding job in the future. Now that the pilot beam is where it should be, we are going to provide insurance for the future by adding the pilot braces. Then the weld repairs will be made. New volunteer boiler make/welder Jon "Swede" Antonsson, is welding up one of the two receivers for the pilot brace. Terry Douglas, Mike McKervey and Jerry Cunnington were "fitting" the welding pad to the smoke box at the upper end of the brace. The two mating surfaces are being repeatedly checked with Prussian blue and ground until they are a surface fit.
Kids! We regularly recruit boiler makers and welders for the next 15 year overhaul. Moms and Dads bring their railroaders in training to the 557 Engine House. They get to ring our bells, learn where to find us at 557.alaskarails.org and see old guys getting dirty. 557 Volunteer and proud granddad, David Lucas, brought twins Dylan and Lindsey and their dad Devin Lucas for the treatment.
For the Christmas season we have 557 gifts ready to go. Extra 557 Returning limited edition numbered and signed prints for $100.00. The third printing of Shannon Cartwright's OL' 556, with four new pages on the 557 restoration for $12.00. Hats, pins, patches are all ready to mail. Just drop us an email to sewtrain557@gmail.com or call 907 350 4340 for immediate service.
Merry Christmas from the 557 Board of Directors, Mechanical Department Volunteers and 557 crew!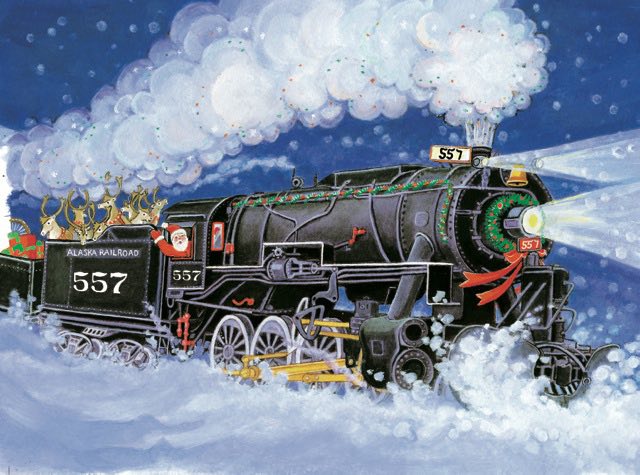 Thank you Shannon for 557 helping Santa and his reindeer on Christmas Eve
Patrick J. Durand, President
President Engine 557 Restoration Company