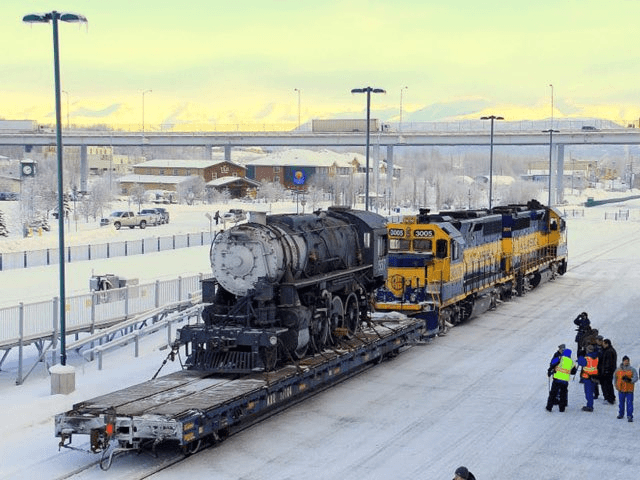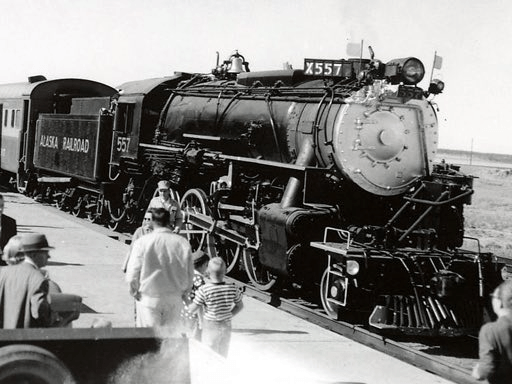 Dedicated to the restoration to operation of ex-Alaska Railroad steam locomotive #557!
Please support the restoration of locomotive #557 now! Make your check to Engine 557 Restoration Company and mail to Engine 557 Restoration Company, P.O. Box 875360, Wasilla, AK 99687. You can also donate by credit card through PayPal. A PayPal account is not required.
The Engine 557 Restoration Company is a designated 501(c)(3) charitable organization and all donations are tax-deductible.
---
Dear 557 enthusiast,
Welcome to the Locomotive #557 web page and thank you for your interest in the last steam locomotive to run on the Alaska Railroad. Number 557 has a long and proud history in support of our nation.
I am grateful to Monte Holm, the Jansen family, Engine 557 Restoration Company and others for serving as careful custodians of this precious artifact of our nation's heritage.
Finally, I am truly excited to know that with the help of many selfless individuals, she will once again be roaming Alaskan rails. Please consider becoming part of this restoration project!
For anyone who would like to volunteer on the project or donate resources then please call 907-350-4340.
John Combs
---
For more information contact us at sewtrain557@gmail.com
#557 on Facebook | View #557 Guestbook | Sign #557 Guestbook | John's ARR Page

It is the policy of the Engine 557 Restoration Company to comply with all laws and regulations on equal opportunity and treatment and it does not permit discrimination on the basis of gender, age, disability, ethnicity, or national origin.