Residents in lower latitudes claim winter starts on the winter solstice. Here in Alaska when we wake up on December 22, the first thought is spring is coming as the days are already getting longer. In a few weeks you are no longer going to work in the dark.
2018 started out with more traditional Wasilla winter weather, swinging from 45° days down to -4° for a few nights, then 4 inches of snow which soon disappeared by sublimation in 50 mph winds which go on and on. Visitors at the engine house, raise the spirits and warm the hearts.
Dave and Judy Snyder of Diversified Tire on the Palmer Wasilla Highway, kicked off the new year with a nice donation to 557. Keep the rubber on the road this winter and count on Diversified Tire!
CMO Jeff DeBroeck and Jerry Peters are evaluating the bolsters and side frames for our tender trucks to determine where ware pads might be needed. New Timken bearings are being installed on the axles with new 33 inch multiple ware wheels.
The Sons of AmVets have several squadrons in Alaska. Squad 2 of Anchorage has adopted Engine 557 as a worthy project. Mike Gagne and his wife Sherry delivered a $500.00 donation on January 6th, 2018. We appreciate their support of Veteran 557 a G.I. Locomotive.
Sean Nelson Is a pilot for Horizon Air but likes to lift heavy iron on his off days. We are breaking him in right on the sand blaster and staking stay bolts in the fire box. Young blood getting trained for the next 1472 day inspection.
Robert Franzen of Steam Services of America is our P.E. for 557. He has advised that the new steam dome cover has been completed. The original did not meet the latest engineering calculations employed in our Form 4.
Ron Dudley with various assistants took on the job of cleaning the four Oakadee automatic cylinder cocks. As a record of assembly sequence this view is before cleaning. We found one of the four units needed a sleeve in the piston end and a new ring made for the piston. Machinist Laverne Buller did all the final machine work making extra cast iron rings and then using a tool post grinder to clean up the ball check seats. Other than that a good cleaning, light hone on the cylinder bore, new ball bearing checks, and Laverne's machine work, they were dry assembled and ready for primer. After final cleaning they went back together with anti seize and grease to protect the internal surfaces until the locomotive goes into service. They are now back in safe dry storage ready for installation.
Bernie Watts of Backshop Enterprises has been most helpful in providing parts needed during the refurbishing of our K240 Dynamos. Jerry Peters has been assisted by Tom Walker in this effort. Brush carriers mounted in the housing, turbine case and the end caps show progress. It will all come together with the next parts delivery.
The overhauled Auxiliary Turret Manifold passed the 285 PSI hydro test and was painted with high temperature Thermolox. Before being sent off to storage it was dried out greased and capped off to preserve all the machined surfaces in the assembly.
Thank John Gray for this 1962 photos of 557 in living color, on her last day in steam headed for the Anchorage Round House. In earlier days that track was the lead to the turntable which finally got removed after someone drove an RSD-1 into the pit. The 557 was the only steamer left on the roster and the turn table became a liability.
This note comes from John Gray. His father, Tom Gray, took the photos, including this one of her tied up for the last time.
"At that time, my father, who was the railroad's track welder, worked in the old roundhouse, usually rebuilding switch frogs and points, during the winter when he could not work outdoors. 557 was always kept in the roundhouse at this time, usually on either track two or three. I used to spend most of my school vacation days at the roundhouse either with 557 or the rotary, with its Vanderbilt tender that looked like it came from a UP 9000 4-12-2, usually on track six). Both were worth spending time with and it created a love for steam that I still have. It means a lot to see this engine in the photo as she was during those days and to know that she now has a real future."
These kind comments come from Stephenie Wheeler at the Alaska Railroad. "We appreciate you and the 557 Restoration group. You are all great ambassadors for the Alaska Railroad and the railroad industry overall. Happy to hear you are sharing railroad news with your volunteers. This is a good group… interested and engaged. I'm glad to be back in the railroading fold. Take care, Stephenie"
Klas Schock, his wife, 2 daughters, and his parents from Billings Montana, visited January 27th and posed in front of the Palatial International Headquarters of Engine 557 Restoration Company after a tour of the shops. They purchased a copy of Shanon Cartwright's Ole'556 and made a nice donation.
Prepared for Engine 557 Restoration Company NPO #86008 (Cycle 2017, Qtr 4)
Dear Engine 557 Restoration Company,
The Kroger Family of Stores is committed to bringing hope and help to local communities. We do this through a variety of activities, including charitable giving, sponsorships and the unique Community Rewards Program of Fred Meyer. We are also committed to carefully protecting our customers' personal information. In order to meet their expectation of privacy, we have adopted a simple policy to never share a customer's personal information. Our privacy policy applies to Community Rewards participation as well. As your neighborhood food retailer, we deeply value our ability to support local organizations like yours.
Your supporters (18 households) who shopped at Fred Meyer between 10-1-2017 and 12-31-2017 (Cycle 2017, Qtr 4) have contributed to your $61.66 total donation. Your organization will be receiving a Kroger check in this amount within 30 days from 1-26-2018. If you have any questions, please email or visit our website at . Thank you for your continued support of your local Fred Meyer store. Don't forget to use your newsletter, website, and events to encourage your supporters to link to your organization. The more your supporters shop with us, the more money your organization will earn!
Thank you,
Community Rewards Staff
SO IF 18 FAMILIES GENERATED $61.66
180 FAMILIES WOULD BRING IN $616.66
1800 FAMILIES COULD REALIZE $6,166.60
SO ask your family and friends and neighbors to link to 557 and join in the Fred Meyer Community Rewards Program. You are just a few clicks away from making a difference for 557!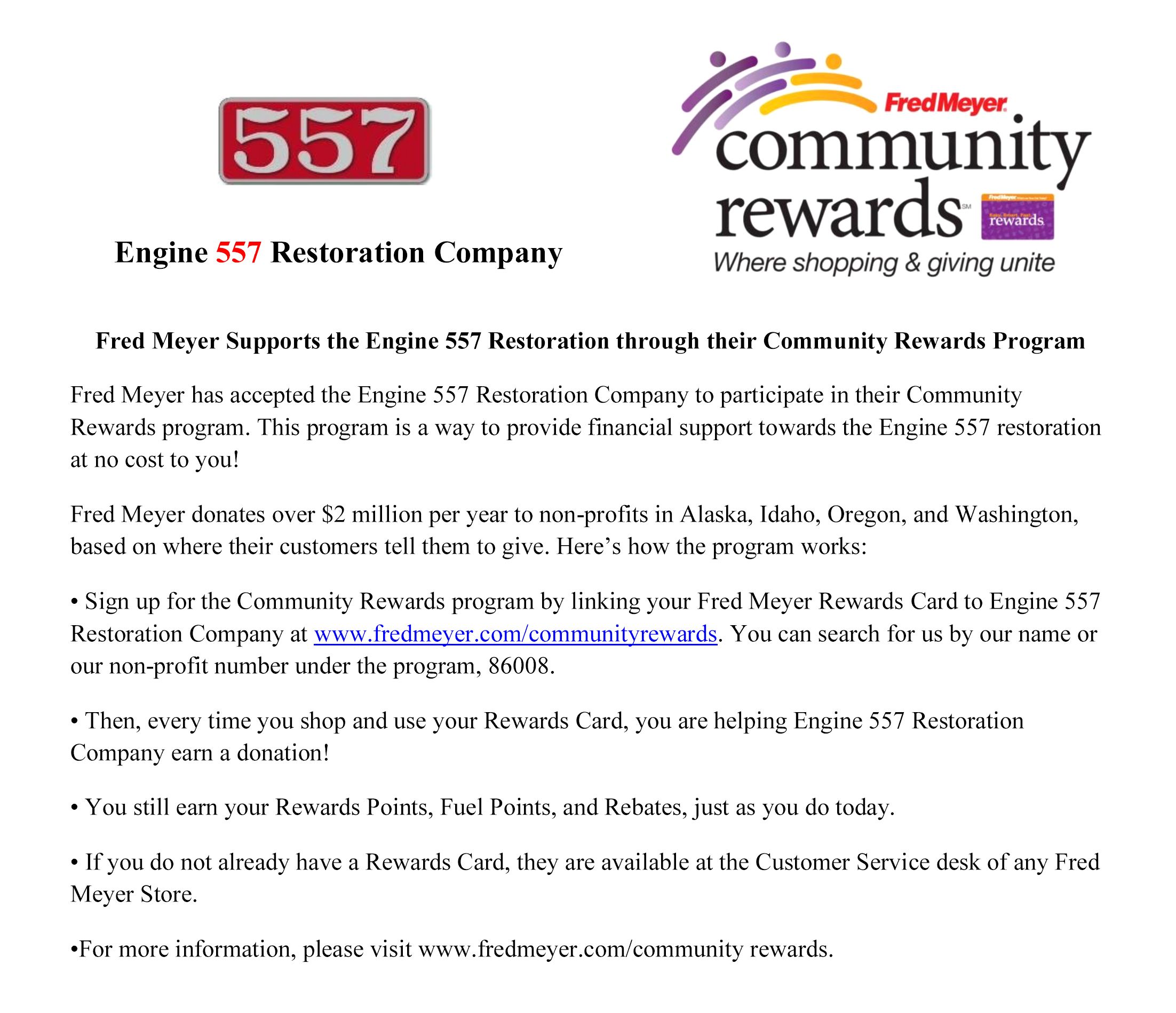 Patrick J. Durand, President
President Engine 557 Restoration Company