Fund raising is a full time job being filled by volunteers. Supporters have donated major items to Engine 557 Restoration Company for fund raising. Our challenge is to maximize the return on these gifts because the project can only move forward as funding is available.
Southern Railway Adlake switchman's oil lamp with SO.RY. on the lens. You can purchase today with a call to 907 350 4340. Asking $400.00 firm. The lamp was donated by Joe Alutius.
Winchester Model 94 Golden Spike Centennial edition serial No. GS35780. Carbine is in new unfired condition, complete with all literature and the original box. The box is in poor condition. The rifle is beautiful as a presentation piece. We are working with the Museum of Alaska Transportation and Industry under permit #707, offering 200 tickets at $20.00 ea. or 6 tickets for $100.00. The drawing will be on January 31, 2018. if you do not live in the State of Alaska and want to participate in the raffle call 907 350 4340. Shipping the prize will also require the assistance of two registered gun dealers, one shipping and the other receiving on behalf of the recipient.
Another Golden Spike Centennial celebration recognition piece is an HO scale brass locomotive model set by Precision Scale. This is a period set of the Central Pacific Jupiter and the Union Pacific #119 special Golden Spike Centennial presentation package from 1969. Models and packaging are in excellent condition, presentation box in good condition. We believe there were only 96 sets made. This item is currently listed on eBay.
Erik Christenson is slowly working through his dad's estate collection. Keith left behind many treasures including the worlds only remaining 3 foot gauge Class A Climax. It is still available, since we are not yet ready to take on another locomotive project. If you are looking for "The" Class A Climax you might contact Erik at ekchristenson@gmail.com
Since NAPA does not stock Westinghouse cross compound air pumps, we purchased a core duplicate of the unit we have already restored. Keith purchased the boiler and fittings including this pump when the Alaska Railroad retired Pile Driver PD6 over 40 years ago and it has now come home to 557.
CMO Jeff DeBroeck worked with the crew to prepare the seat of the main turret valve to pass a static hydro test. Getting the 4" brass valve disk to dependably close in the cast iron seat and pass a 285 psi hydro test is a challenge.
Having completed restoration of the Pyle National headlight for the tender as practice, the crew has now stripped the front lamp case and components for rebuild. Fortunately we have three different sand blasters from large down to cabinet size to reduce items to white metal in preparation for epoxy primers.
On Saturday, October 21, PAWS and TAWS square dancers took over the 557 Engine house for about an hour as the final stop on a Railroad theme dance night. PAWS and TAWS started at the Palmer Train Station, moved to the South Palmer Station and then traveled to the 557 Engine House for a few rounds under direction of Gary Feaster their featured caller. The group of about 25 got an introduction to 557 and left behind a show of their generosity in support of the restoration. Dance on and on and……..
557 did not lead a charmed life as evidenced by the original condition of the Engine Truck (the two wheeled lead truck). At first glance we noted that the left wheel flange was badly worn and that the wheel occasionally bounced up and hit the frame. When we took it apart 4 years ago we noted that 6" of accumulated wear was evidenced by missing material from the contact points of the front equalizer. The equalizer was designed to carry 26,000 pounds on the engine truck. All that wear passed the full weight of the cylinder block right back to the front axle where the bearings were shot. Without its designed load the engine truck was just bobbing along and looking for a place to go other than straight down the track.
The bearings were shot along with the left wheel and several components were obviously bent. The Radius Bar (shown here leaning against the wall) is the foundation of the engine truck. It had several critical bends which were not part of the design drawing. With the original drawing, strait edges, a 50 ton press and 5 guys to manhandle the radius bar, it was returned to original specs. Now when reassembled with new wheels and bearings it should go straight down the track in tram.
Doug VanWingerden, Laverne Buller and Jerry Cunnington share duties as machinists when odd tools, adaptors and parts are required. Our 1939 vintage Lodge and Shipley lathe gets the job done.
This word just in from Fred Meyer! Thank you to the 12 individuals who signed up for the Community Rewards Program. This is a painless way to participate in restoring Engine 557.
"Your supporters (12 households) who shopped at Fred Meyer between 7-1-2017 and 9-30-2017 (Cycle 2017, Qtr 3) have contributed to your $53.18 total donation. Your organization will be receiving a Kroger check in this amount within 30 days from 10-20-2017."
Please consider getting on board with 557 and Fred Meyer. Sign up below so we can bring 100 or 1000 supporters on board, and turn this into a meaningful source of funding.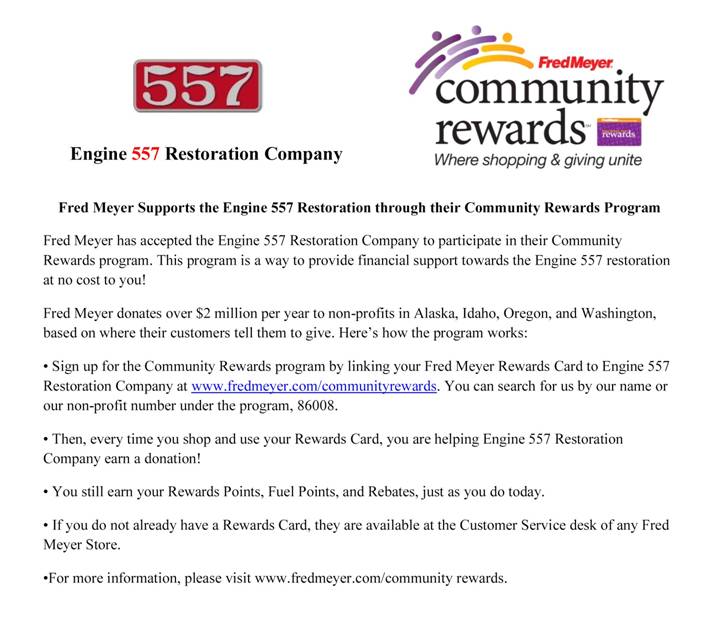 Patrick J. Durand, President
President Engine 557 Restoration Company