From Germany comes this photo of 50-3648-8 provided by Volker Lange who is a tireless promotor and supporter of 557 in Germany. He closed out our fund raising sponsorship of flues and tubes, when he secured the last three tubes! The sponsorship of 149 tubes and 30 flues raised a total of $26,244 for restoration of 557. We thank all those who contributed and memorialized so many of our past railroaders.
Alaska Bearing provided in-kind donation of tapered bearings needed for repair of our Duff Norton Air Motor Jacks, thanks to Larry.
Dave Snyder, owner of Diversified Tire donated the service call and repair of a tire on our Case 721 loader.
Central Environmental Inc. came through with more donations of steel from their Anchorage recycle facility.
Please do recognize and patronize the many businesses who give so generously:
Corporate Donors in-kind services and supplies

| | | |
| --- | --- | --- |
| Alaska West Express / Lynden | Scott Hicks | Transport as needed, storage container |
| Central Environmental Services | Shane Durand | Asbestos Abatement as needed |
| Garage Doors of Alaska | Chris Caulkins | Install Shop doors compressor |
| The Alaska Railroad Corporation | Don Worthley | Alaska Railroad Liaison |
| ATS Portable Toilets | Larry Nelson | The necessities |
| Porcaro Communications | Mike Porcaro | Business Cards, Logo design, Letterhead etc. |
| Vannoy Electric | Aren Schurosky | Electrical Upgrades |
| Polar Wire Products | Marven Kuentzel | Loan of Boom Truck |
| Independent Lift Truck of Alaska | Warren Dick | Loan of 6,000 lbs Forklift |
| Moses Lake Steel Supply | Steve Rimple | Steel and bolts and New Jacket for Gypsy |
| Glacier Glass and Door | Jay Berna | Glazing and refurbish cab windows |
| Jaffa Construction | Bruce Jaffa | Loan of ultrasound equipment for boiler testing |
| Steam Services of America | Robert Franzen | Consulting Lotsa advice and guidance |
| Larry Erickson Enterprising Mechanic | Larry Erickson | Loan of Welder and heavy tooling |
| Greatland Welding and Machine | Gary Feaster & Dan Lucus | Equipment loan and supplies |
| TRIJET Manufacturing | Hans Vogel | Water jet cutting powder coating machine work |
| Unique Machine | Pat Hanley | Line boring and piston rings |
| Ice Monkey Garage | Casey Durand | Loan of production tools |
| Air Liquide Wasilla | Dave Ratner | Welding supplies and gases |
| Roteq Alaska Corporation | Bob Schmidt | Machine shop services |
| Diversified Tire | Dave Snyder | Tire maintenance |
| Small is Beautiful | Corey Brause | Wood fabrications |
| L & B Color Printing | Lavon Barve | Custom printing jobs |
| Alaska Industrial Hardware AIH | Mike Dunsmore | Hardware Wasilla |
| Alaska Wood Moulding | Mark Stearns | Custom wood milling for cab |
| WELD AIR Alaska | Denny Harman | Structural Steel & Pipe |
There are 1043 stay bolts to install in the 557 firebox. 407 of them are flexible stay bolts in two styles and several different lengths as shown with their sleeves and caps. These require a lot of work, starting with welding the ball socket sleeve into the outer sheet where a special reamer prepares the hole in advance. The longest ones go into the crown sheet.
The remaining stay bolts will be standard ones about 7" long that thread into both the inside and outside sheet after a long reamer tap threads the two holes concentric. They will be threaded in from the outside and peened over and safety welded on the inside fire box sheets. All of the stay bolts and associated parts are on hand for installation. Now it takes strong backs and excellent welders.
With the back head and throat sheet populated with flexible stay bolt sleeves it was time to move to the side sheets where there is a double row of flexible bolts to install up each edge. Ken Elmore is positioning the jig that holds the sleeve in place prior to tack welding. The black handles are attached to round magnets that cover adjacent holes to protect them from spatter during the welding process. A vertical strip of sheet metal is held in place by another magnet and provides the same protective function. The sleeve jig holds another sleeve in place ready to be tack welded. Jerry Cunnington was using 6010 rod to tack sleeves on one edge of the sheet while Jim Keene and Ken were positioning the next sleeve on the opposite edge. Moving back and forth from edge to edge with the jig holding flexi sleeves, moved the process forward quickly.
Machinist Doug VanWingerden took it as a personal challenge to produce a replacement for a badly rusted gear set in one of our Duff Norton Air Motor Jacks. With the original as a pattern, a piece of 4140 round stock became a like new part. 557 volunteers just never say no.
The Alaska Railroad added steam heat to the cab of 557 with old school schedule 40 pipe and fittings in the side walls of the cab. We have rebuilt these with all new fittings. The feed valve is rated for 300 psi but the pipe is open to the atmosphere on the exhaust end. These will not likely see much use but in the old days they needed to be prepared for 40° below.
Jerry Peters and Tom Walker continued the electrical installation with all new materials. Markers and rear headlight now light up the tender powered by the 32 volt DC shore power pack built by Ken Elmore. Twist lock weather tight connectors for the markers are sold for electric trolling motors, robust and inexpensive. Ken conducted a number board test with the same 3 watt LED lamps we used in the marker lights. These lamps are internally regulated to operate on 12 to 80 volts DC.
Tom has rebuilt the original fuze box that had three fused circuits and added buss bars and multiple breakers for new circuits. The breaker box contains the breakers used as service switches for headlights, number boards, markers and cab lights as needed. The expanded wire cage on top of the back cab wall houses the resistors for dimming the headlight.
More news from across the pond. Here are two s-160 siblings double heading in the English countryside. Another English sister in war paint ready to steam, makes three. Reportedly there are two more undergoing restoration in Britain.
For model railroaders some good news. The first delivery of the HO Scale ROCO s-160 locomotives has arrived in Alaska. Initial trials reveal an excellent if unconventional mechanism, providing slow, quite operation, but for the on board sound system. Excellent tractive effort for its small size. Present are all the details of the USATC locomotive bound for service in support of the Allied troops around the world. There were 2120 of these locomotives built for the US Army Transportation Corp.
In 1943 and 1944 twelve S-160's made it to Alaska to become the 550 class. ROCO has already released the Austrian State Railways version to be followed by the French version in 2017 and then by other European post war versions and finally the KD-6 class from China. We have lobbied hard to have the ARR version represent the contemporary 557. It will be a race to see if the prototype or the model will first see operation. Here is a link to the U.S. distributor: http://www.reynaulds.com/catalog/dept_648.aspx
Engine 556, now a monument on the Anchorage Park Strip was recently tagged by an "alleged artist" who has been apprehended. An Anchorage Dad and his two daughters took on the volunteer job of overpainting the damage. We contributed a commemorative section of 557 superheater flue as a small thank you. Maeve Nevins, Senior Park Planner also gifted the volunteers with Third edition copies of Ol' 556 which we had signed by the the artist/author, Shannon Cartwright. Maeve sent this nice note in recognition of our support of 556 on display.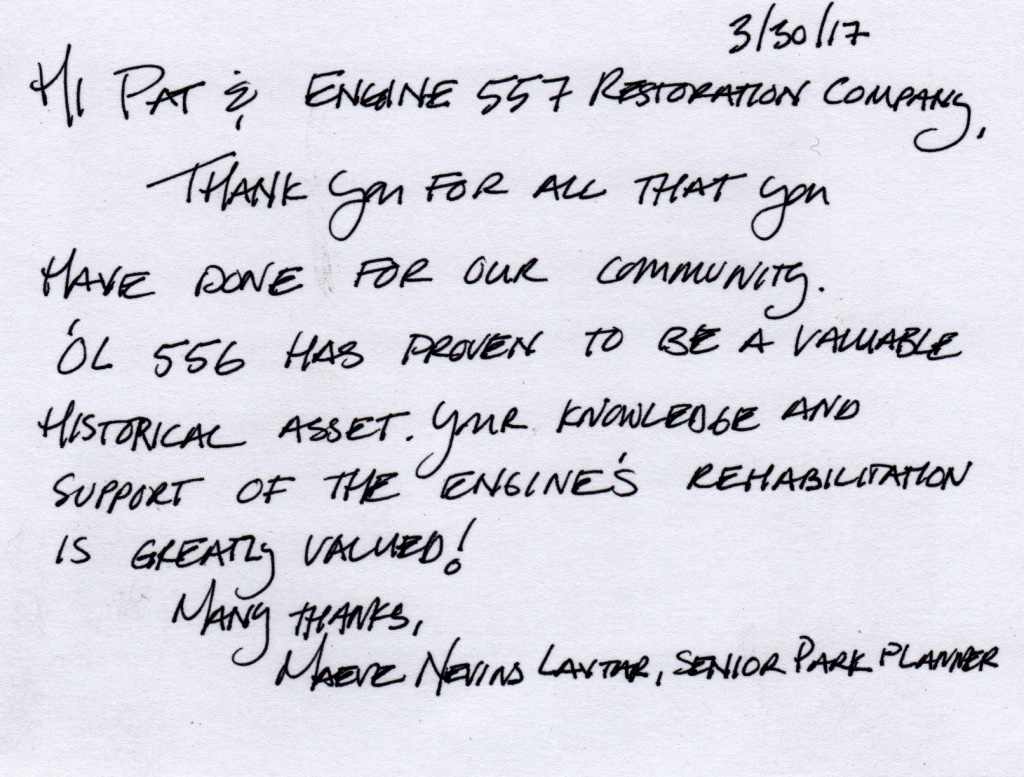 We know spring is coming because the shop ceiling furnace set for a max of 40° F, actually turned off for a few hours last week. Snow and cold made up for two very mild winters of 2014 and 2015. Winter reminded us all that we live in Alaska by choice so we can work on 557. The wife says we should all be committed, and I explain that we are.
Your financial support at this time will keep us on schedule with a visit from our Professional Engineer, Robert Franzen this summer.
Come and visit 557 when you can.
Patrick J. Durand, President
President Engine 557 Restoration Company